AGRICULTURAL SCIENCES P2
FEBRUARY/MARCH 2016
MARKS: 150
TIME: 2½ hours
INSTRUCTIONS AND INFORMATION
This question paper consists of TWO sections, namely SECTION A and SECTION B.
Answer ALL the questions in the ANSWER BOOK.
Start EACH question on a NEW page.
Number the answers correctly according to the numbering system used in this question paper.
You may use a non-programmable calculator.
Show all calculations, including formula where applicable.
Write neatly and legibly.
SECTION A
QUESTION 1
1.1 Various options are provided as possible answers to the following questions. Choose the answer and write only the letter (A–D) next to the question number (1.1.1–1.1.10) in the ANSWER BOOK, for example 1.1.11 A.
1.1.1 ONE of the statements below indicates the price inelasticity of demand:
Consumers will buy chicken if the price of mutton increases.
Consumers will continue buying maize if the price of maize increases.
Consumers will buy another type of pasta if the price of spaghetti increases.
Consumers will buy a cheaper chocolate bar if the price of a white chocolate bar increases.
1.1.2 The following information applies ONLY to Internet marketing where transactions are done online:
The farmer employs an agent to perform marketing tasks.
The farmer sells produce at the market place.
Consumers may not want to use their credit cards.
Large retailers aim at gaining publicity by supporting emerging producers.
1.1.3 Agricultural cooperatives have the following advantages for small-scale farmers:
Producers have a better chance of negotiating a good price.
Easy access to funding.
Prices of products fluctuate and producers are affected.
Producers preserve their markets.
Choose the correct combination:
(i), (ii) and (iii)
(i), (ii) and (iv)
(i), (iii) and (iv)
(ii), (iii) and (iv)
1.1.4 The straight line (Y) represents the … of a product.
market equilibrium
shortage
demand
supply
1.1.5 ONE of the following is NOT associated with labour legislation:
Labour Relations Act
Basic Conditions of Unemployment Act
Occupational Health and Safety Act
Skills Development Act
1.1.6 This is NOT applicable to capital as a production factor:
Most capital goods have a limited lifespan.
Capital goods are expensive and difficult to obtain.
Vukuzenzele Trust offers a grant to small-scale farmers.
Some capital goods cannot be manufactured in the country.
1.1.7 Examples of risk-sharing strategies:
Insuring against risks
Diversification
Specialisation
Future contracts
Choose the correct combination:
(i), (ii) and (iv)
(i), (ii) and (iii)
(ii), (iii) and (iv)
(i), (iii) and (iv)
ONE of the following is NOT an economic characteristic of land:
Limitedness
Varies in production potential
Value appreciates over time
Source of minerals and raw materials
1.1.9 Cattle have 30 pairs of chromosomes in the nucleus. The number of chromosomes in the female gametes will be ....
15.
45.
60.
30.
1.1.10 A heterozygous Brahman bull is mated with a heterozygous cow. What will the expected genotypic ratio in F1-generation be?
1 : 3 : 1
3 : 1
1 : 2 : 1
1 : 1 (10 x 2) (20)
1.2 Choose a term from COLUMN B that matches a description in COLUMN A. Write only the letter (A–J) next to the question number (1.2.1–1.2.5) in the ANSWER BOOK, for example 1.2.6 K.
COLUMN A
COLUMN B

1.2.1 Total amount of commodity that a producer wishes to sell

1.2.2 Physical and mental effort by people

1.2.3 Cell division by which gametes are formed

1.2.4 An electric current passed through incubated recipient plant cells with desired genes

1.2.5 Found in the cells of the nucleus and provides genetic instructions for functioning of cells

A electroporation
B mitosis
C labour
D supply
E meiosis
F gene gun
G deoxyribonucleic acid (DNA)
H management
I motivation
J demand

(5 x 2) (10)
1.3 Give ONE term for each of the following descriptions. Write only the term next to the question number (1.3.1–1.3.5) in the ANSWER BOOK.
1.3.1 A written document that outlines future actions on income and expenditure based on projections and historic data
1.3.2 The price of a product at a level where the quantity demanded is equal to the quantity supplied to the market
1.3.3 Money or equipment accumulated through saving and employed in the production process
1.3.4 The use of statistics in biology to analyse genetic data of an individual to estimate true genetics and breeding value
1.3.5 When the action of one gene is modified or controlled by another gene
(5 x 2) (10)
1.4 Change the UNDERLINED WORD(S) in each of the following statements to make them TRUE. Write only the answer next to the question number (1.4.1–1.4.5) in the ANSWER BOOK.
1.4.1 The demand chain describes the flow of products from the production point to the consumption point.
1.4.2 Financial risk includes production losses, labour-related and technological risks.
1.4.3 Gross domestic product is the total gross margin minus the general farm expenses.
1.4.4 Specialised tasks on the farm are done by formal labour.
1.4.5 The chromosomes refer to the sum of the gene effects of a breeding animal, as measured by the performance of its progeny. (5 x 1) (5)
TOTAL SECTION A: 45
SECTION B
QUESTION 2: AGRICULTURAL MANAGEMENT AND MARKETING
Start this question on a NEW page.
2.1 The schematic representation below shows various strategies in developing a market.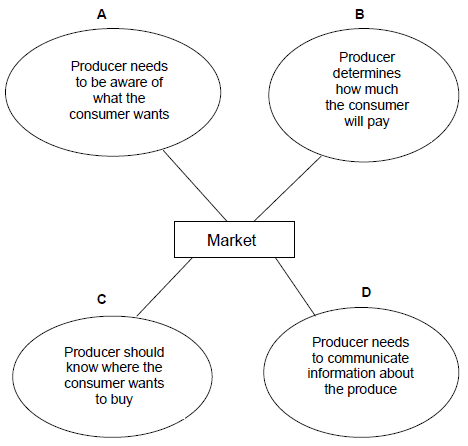 2.1.1 Identify the strategies of developing a market represented by A to D. (4)
2.1.2 State TWO factors that the producer should consider when planning the strategy represented by A. (2)
2.1.3 Name TWO ways in which the producer can implement the strategy represented by D successfully. (2)
2.1.4 Indicate TWO aspects a producer has to consider when deciding on the strategy represented by B. (2)
2.2 A group of emerging farmers growing vegetables have limited access to funding. They decide to share the cost of production and marketing of their produce until everyone is economically viable.
2.2.1 Indicate the marketing system that is used by these farmers. (1)
2.2.2 Name THREE advantages of the marketing system in QUESTION 2.2.1. (3)
2.2.3 State TWO principles that could guide this group of emerging farmers. (2)
2.3 The table below shows the quantities of Agricultural Products 1 and 2 supplied at different prices.
PERIOD
PRICE (R)
PRODUCT 1
QUANTITIES
SUPPLIED
(kg)
PRODUCT 2
QUANTITIES
SUPPLIED
(kg)​
% CHANGE IN SUPPLY
% CHANGE IN PRICE
PRODUCT 1
PRODUCT 2
PRICE 1
PRICE 2
Aug.
2011
10
11 500
11 500
Mar.
2012
15
12 000
12 100
Dec.
2013
20
13 000
16 000
13
39
20
20
Dec.
2014
30
14 500
18 000
Dec.
2015
40
16 000
22 000

2.3.1 Formulate the hypothesis based on the data of quantities supplied from August 2011 to March 2012. (2)
2.3.2 Calculate the price elasticity of Product 1 and Product 2 for the period between August 2011 and December 2013.
Use the formula:
% change in supply
% change in price (4)
2.3.3 Interpret the price elasticity of supply for Product 1 and Product 2. (2)
2.3.4 State TWO factors that might have affected the supply of these products. (2)
2.4
The community members intended to start a business venture using their communal fields totalling 400 ha, but lacked capital and skills. The area also has poor weather conditions. Their motivation to start the business was a flourishing project in a nearby village. They are planning to farm with beef cattle to sell to locals for their traditional ceremonies and sheep to sell to a local supermarket. They also intend to grow vegetables to supply the local school. They plan to utilise the services of the agricultural extension officer for advice.
2.4.1 Use a SWOT analysis and identify:
TWO strengths (2)
ONE weakness (1)
ONE opportunity (1)
TWO threats (2)
2.4.2 Recommend THREE actions to correct the threats identified in QUESTION 2.4.1(d). (3)
[35]
QUESTION 3: PRODUCTION FACTORS
Start this question on a NEW page.
3.1
A group of unemployed young people in a rural community were granted 50 ha of land by a local chief to use to generate an income for themselves. They grew maize, which they could sell. In the first two years they had a yield of 5 tons per ha which increased gradually to 6 and 7 tons per ha over the next 2 years due to the use of fertiliser. In the fifth year, however, the yield declined despite the increased application of fertilisers.

3.1.1 Identify TWO economic characteristics of the land in the case study. (2)
3.1.2 Explain the characteristic in QUESTION 3.1.1 that is associated with fertilisers and yield. (2)
3.1.3 State TWO functions of land in the case study. (2)
3.1.4 Indicate TWO ways in which the group of young people could increase the production potential of the land. (2)
3.2 The table below indicates a cash flow budget of broilers and eggs on a poultry farm.
ITEM
SALES PER WEEK
MONTHLY COSTS
Eggs
R8 000
R39 000
Broilers
R12 500
Total

3.2.1 Explain the way in which a cash flow budget assists a farmer to run a poultry farm business. (2)
3.2.2 Determine the total monthly income the farmer can budget for to run this business successfully.
(Show ALL calculations.) (3)
3.2.3 Indicate whether or not the farmer should continue with this business. (1)
3.2.4 Give a reason for the answer to QUESTION 3.2.3 based on the calculation. (2)
3.2.5 Refer to the table and identify TWO forms of capital on the farm. (2)
3.3 The graph below indicates the skills of a farm worker and a farm manager.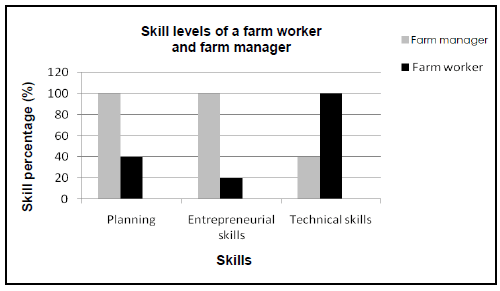 3.3.1 Refer to the graph and identify TWO important skills a farm manager should have. (2)
3.3.2 Name ONE important skill that will enable the farm worker to perform a task. (1)
3.3.3 Justify the answer to QUESTION 3.3.2. (2)
3.3.4 Name TWO management skills, other than the skills in the graph, that are very important for the farm manager. (2)
3.3.5 State TWO management principles that a farmer must apply in the farm business. (2)
3.4 Identify the type of leave represented by each of the scenarios below, as stipulated by legislation.
3.4.1 Employees are entitled to a 21 consecutive days leave or one day leave for every 17 days worked every year. (1)
3.4.2 Female farm workers are entitled to 4 months leave to raise their babies depending on the agreement signed between the employee and the employer. (1)
3.4.3 The employee has been absent due to flu. (1)
3.5
A farm worker worked on three public holidays. The daily allowance on normal working days is R111,72 per day. The allowance on public holidays is double the allowance for normal working days. The employer paid this worker R400,00 in total for the three public holidays.

3.5.1 Calculate the amount this worker is entitled to for work performed on the three public holidays. (2)
3.5.2 State whether this was fair labour practice to the farm worker. (1)
3.5.3 Refer to the labour laws governing working on public holidays and justify the answer to QUESTION 3.5.2. (2)
[35]

QUESTION 4: BASIC AGRICULTURAL GENETICS
Start this question on a NEW page.
4.1 A table below indicates measured pre-weaning growth rates (g/day) of certain cattle crosses.
PARENTS OF CALVES
FROM CROSSING

PASTURE CONDITIONS
POOR
AVERAGE
GOOD
NO.
BULLS
COWS
AVERAGE DAILY GAIN OF CALVES (g/day)
1
H
H
425
704
827
2
B
B
658
713
770
3
B
H
468
773
884
4
H
B
738
780
872
5
B
F1
716
848
858
6
H
F1
734
848
880
7
F1
B
698
747
821
8
F1
H
446
739
855
9
F1
F1
725
848
869

Key:
F1 – First cross
H – Hereford
B – Brahman
4.1.1 Identify the type of breeding system in the table above. (1)
4.1.2 Refer to the table above and select the parents that produced calves with the highest average daily gain from pastures in poor condition. (1)
4.1.3 Give TWO reasons to support the answer to QUESTION 4.1.2. (2)
4.1.4 Draw a bar graph to indicate the performances of crossings 1, 2 and 9 on poor, average and good pasture conditions. (6)
4.2 The milk production of a Jersey cow is controlled by two pairs of genes. The genotype aabb gives a milk yield of 200 litres. Each additive dominant gene adds 20 litres of milk.
4.2.1 Indicate the type of inheritance that controls the milk yield of a Jersey cow. (1)
4.2.2 Calculate the milk yield of a Jersey cow with the AAbb genotype. (3)
4.2.3 Work out the genotypic and phenotypic ratios of the F1-generation if the cross between AABB and aabb is done. (3)
4.3 The picture below indicates a pattern of inheritance in farm animals.

4.3.1 Identify the phenomenon above. (1)
4.3.2 Give a reason for the answer to QUESTION 4.3.1. (2)
4.3.3 Give the alternative name of the phenomenon in QUESTION 4.3.1. (1)
4.4
Three important aspects are considered when selecting individuals for breeding programmes, namely biometrics, heritability and estimated breeding values. Selected individuals may be mated using various breeding systems, such as out-crossing, species crossing and crossbreeding.

4.4.1 Differentiate between selection and heritability. (4)
4.4.2 State TWO advantages of species crossing. (2)
4.4.3 State TWO related breeding systems not mentioned in the case study. (2)
4.4.4 Explain the importance of using estimated breeding values in breeding. (2)
4.5 Mutagens change the genetic material of an organism causing errors in the genes of organisms. How will the following mutagenic agents affect the DNA structure of the gene?
4.5.1 Gamma and X-rays (1)
4.5.2 Metals such as nickel and chromium (1)
4.5.3 Alkaloids (1)
4.5.4 Viruses (1)
[35]
TOTAL SECTION B: 105
GRAND TOTAL: 150