ENGLISH HOME LANGUAGE P1
GRADE 12
NATIONAL SENIOR CERTIFICATE
NOVEMBER 2016
INSTRUCTIONS AND INFORMATION
This question paper consists of THREE sections:
SECTION A: Comprehension (30)
SECTION B: Summary (10)
SECTION C: Language in context (30)
Read ALL the instructions carefully.
Answer ALL the questions.
Start EACH section on a NEW page.
Rule off after each section.
Number the answers correctly according to the numbering system used in this question paper.
Leave a line after each answer.
Pay special attention to spelling and sentence construction.
Suggested time allocation:
SECTION A: 50 minutes
SECTION B: 30 minutes
SECTION C: 40 minutes
Write neatly and legibly.
SECTION A: COMPREHENSION
QUESTION 1: READING FOR MEANING AND UNDERSTANDING
Read TEXTS A and B below and answer the questions set.
TEXT A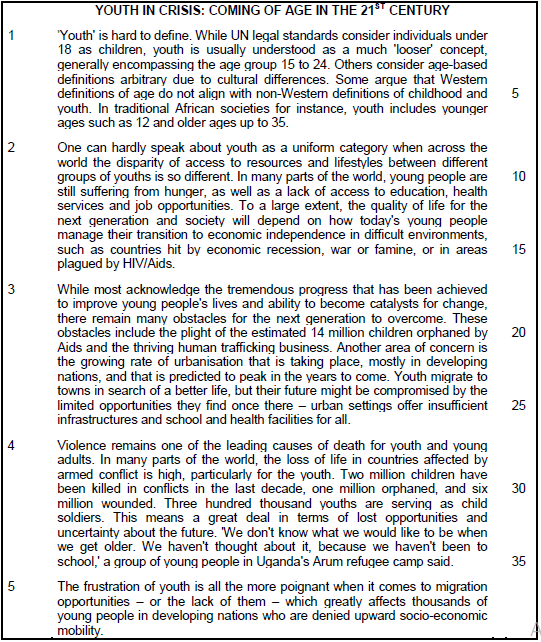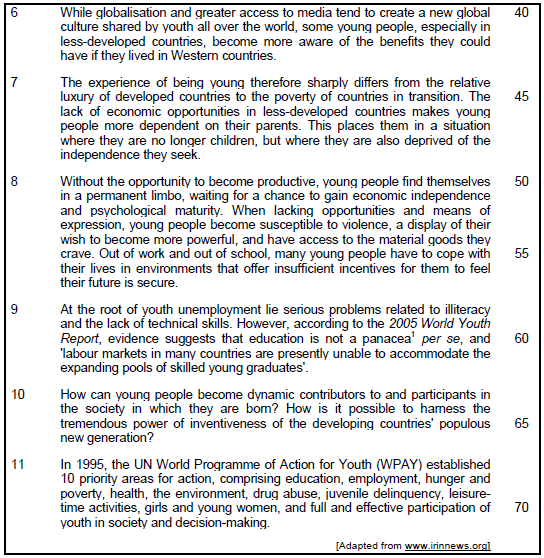 Glossary:
panacea - a cure for all ailments/everything that is unhealthy
AND
TEXT B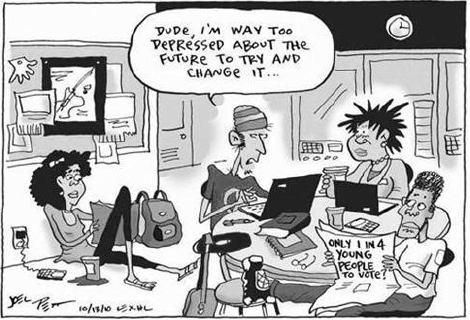 QUESTIONS: TEXT A
1.1 With reference to paragraph 1, explain why the term 'youth' is 'hard to define'. (2)
1.2 Refer to paragraph 2.
Discuss how the disparity mentioned in this paragraph affects the youth. (2)
1.3 Explain the meaning of the phrase, 'catalysts for change' (line 18) in the context of paragraph 3. (2)
1.4 Refer to paragraph 4.
Why has the writer included statistics in this paragraph? (2)
1.5 Discuss the writer's intention in quoting 'We don't know … been to school' (lines 33–35). (2)
1.6 Comment on the impact of the contrast between paragraphs 5 and 6. (3)
1.7 Is the writer justified in using the expression, 'permanent limbo' (line 51) in the context of paragraph 8? Substantiate your response. (3)
1.8 Comment critically on the statement, 'education is not a panacea per se' (line 60), in context. (3)
1.9 Refer to paragraph 10.
In your view, are the rhetorical questions effective at this point in the passage? Justify your response. (3)
1.10 The attitude of the speaker can be defined as ...
committed.
relaxed.
apathetic.
nonchalant. (1)
1.11 Comment on the irony in TEXT B. (3)
QUESTION: TEXTS A AND B
1.12 Both TEXT A and TEXT B address the issue of youth in crisis.
In your opinion, which text is likely to have the greater impact on the reader? Carefully justify your response. (4)
TOTAL SECTION A: 30
QUESTIONS: TEXT B
SECTION B: SUMMARY
QUESTION 2: SUMMARISING IN YOUR OWN WORDS
TEXT C provides insight into the science behind using hand gestures. Summarise in your own words why hand gestures are a crucial element in communication.
NOTE:
Your summary should include SEVEN points and NOT exceed 90 words.
You must write a fluent paragraph.
You are NOT required to include a title for the summary.
Indicate your word count at the end of your summary.
TEXT C
THE FASCINATING SCIENCE BEHIND 'TALKING' WITH YOUR HANDS
If someone has ever made fun of you for making elaborate hand gestures while talking – or you've seen footage of yourself speaking, only to be horrified by your flailing forearms – don't be too concerned. According to psychologists, those gestures are probably helping you express your thoughts more effectively.
'Hand gestures are really a powerful aspect of communication, from both the speaker's and the listener's end,' says Dr Carol Kinsey Goman, body language expert. Last year, a study analysing human gestures found that the most popular, prolific speakers used an average of 465 hand gestures, which is nearly twice as many as the least popular speakers used. Other research has found that people who 'talk' with their hands tend to be viewed as warm, agreeable and energetic, while those who are less animated are seen as logical, cold and analytical.
Gesturing is a healthy and normal aspect of human communication. Hand gestures help us take what's in our mind and make it intelligible to others. 'Gesture is really linked to speech, and gesturing while you talk can really power up your thinking,' Kinsey Goman said. Gesturing can help people form clearer thoughts, speak in tighter sentences and use more declarative language. A brain region known as Broca's area is connected to speech production, but is also active when we wave our hands.
We gather information from others' body language, as well as from their specific words because gestures often underscore the important points someone is making. Furthermore, hand motions can reveal information that may be absent in our speech. Research demonstrates that the movements we make with our hands when we talk constitute a kind of second language, adding information that's absent from our words. Gesture reveals what we know. It also reveals what we don't know.
A child's use of hand gestures early in life can be a sign that she will later develop a strong vocabulary, as well as skills related to sentence structure and storytelling, according to a study published last year in the Journal of Child Language. From cradle to grave, body language is crucial in helping communicate our emotions and motivations to others.
TOTAL SECTION B: 10

SECTION C: LANGUAGE STRUCTURES AND CONVENTIONS
QUESTION 3: ANALYSING ADVERTISING
Study the advertisements (TEXT D and TEXT E) below and answer the questions set.
TEXT D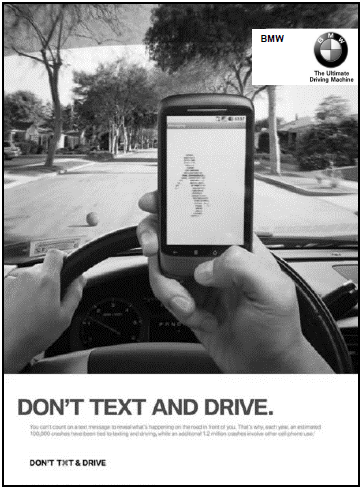 The text in small font reads as follows:
DON'T TEXT AND DRIVE.
You can't count on a text message to reveal what's happening on the road in front of you. That's why, each year, an estimated 100 000 crashes have been tied to texting and driving, while an additional 1,2 million crashes involve other cell phone use.
DON'T TXT & DRIVE

QUESTIONS: TEXT D
3.1 Why does the advertisement make reference to BMW?(2)
3.2 Discuss how the written text reinforces the illustration in the advertisement.(3)

TEXT E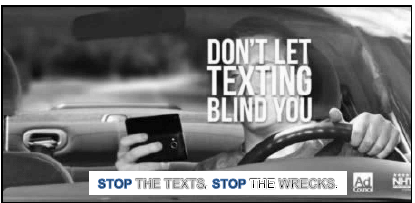 QUESTIONS: TEXT E
3.3 Comment on the effectiveness of the slogan, 'STOP THE TEXTS. STOP THE WRECKS'. (2)
3.4 Analyse the visual image and the written text, 'DON'T LET TEXTING BLIND YOU'.
Critically discuss whether the text and the image successfully convey the advertiser's message. (3)
[10]

QUESTION 4: UNDERSTANDING OTHER ASPECTS OF THE MEDIA
Study TEXTS F and G below and answer the questions set.
TEXT F: CARTOON


QUESTIONS: TEXT F
4.1 What does the officer's facial expression in FRAME 3 reveal about his attitude? (2)
4.2 Comment on the impact of the last frame in conveying the cartoonist's message. (3)
TEXT G: CARTOON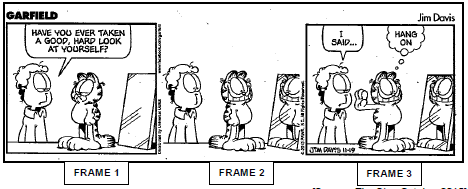 QUESTIONS: TEXT G
4.3 In FRAME 2, the cartoonist uses a technique that is different from those used in FRAMES 1 and 3.
Discuss the effectiveness of this technique. (2)
4.4 Discuss the humour in the cartoon by making reference to both the visual and the verbal elements. (3)
[10]
QUESTION 5: USING LANGUAGE CORRECTLY
Read TEXT H, which contains some deliberate errors, and answer the questions set.
TEXT H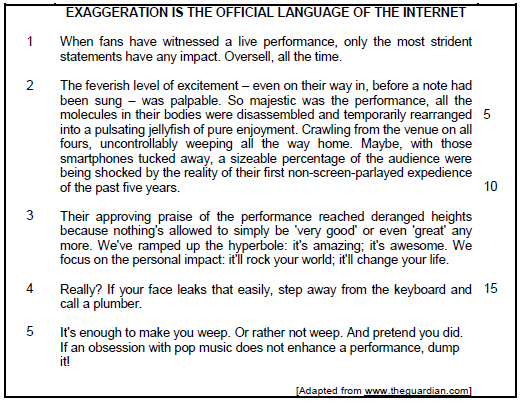 QUESTIONS: TEXT H
5.1 Provide ONE word for the phrase, 'all the time' (line 2). (1)
5.2 Explain the function of the dashes in lines 3–4. (1)
5.3 'Crawling from the venue on all fours, uncontrollably weeping all the way home' (lines 6 and 7).
Rewrite this sentence so that it is grammatically correct. (1)
5.4 Correct the malapropism in lines 7–10: 'Maybe, with those … past five years.' (1)
5.5 Correct the error of concord in paragraph 2. (1)
5.6 Rewrite 'We've ramped up the hyperbole' (line 13) in the passive voice. (1)
5.7 Remove the tautology from lines 11–13: 'Their approving praise … any more.' (1)
5.8 'If your face leaks that easily, step away from the keyboard and call a plumber' (lines 15–16).
Identify the subordinate clause in the above sentence. (1)
5.9 Give the adjectival form of 'pretend' (line 17). (1)
5.10 Explain the ambiguity in 'If an obsession with pop music does not enhance a performance, dump it!' (lines 18–19). (1)
[10]
TOTAL SECTION C:30
GRAND TOTAL:70